Soccer is the universal language that can bridge gaps and unite communities.
Located within the shadow of the Capitol in downtown Lansing, Beacon Soccer Field provides Lansing's youth an unprecedented soccer experience!
In total, there were 92,022 kids in Michigan and 3,055,148 in the nation last year who paid to play in the US Youth Soccer system. In the Lansing area alone, about 5,000 kids are involved in organized youth soccer.
Unfortunately, there is still a gap in opportunity for many. Embodying the inclusive nature of the game at its most grassroots level, Beacon Soccer Field is the only field of its kind offering free play all the time in Lansing's urban core.
Crowdfunding through Patronicity completed May 22, 2015
The Michigan Economic Development Corporation will match $60,000!
Visit our Patronicity page to see the support.
Continued contributions via check can be mailed to the Capital Area Soccer League (CASL) at:
Beacon Soccer Field
c/o Capital Area Soccer League
1427 W. Saginaw, Suite 175
East Lansing, MI 48823
CASL is a 501(c)(3) non profit that works to maximize available resources to provide soccer opportunities to youth in the capital area.
BEACON FIELD
Urban mini soccer fields were originally designed and implemented by FIFA in response to the 2010 FIFA World Cup in South Africa. The fields were meant to be a gathering place for youth and they were combined with community centers that could serve as educational hubs.
Urban mini soccer fields can serve as a gathering place for urban neighborhoods – a place where youth from all backgrounds can play the world's game together.
Beacon Field features:
Located on the southeast corner of Ferris Park
Placed on existing permeable ground
60' x 120' synthetic turf
48" perimeter kick-board
Post and netting on goals
LED Light fixtures (powered by renewable energy created right here in the greater Lansing community)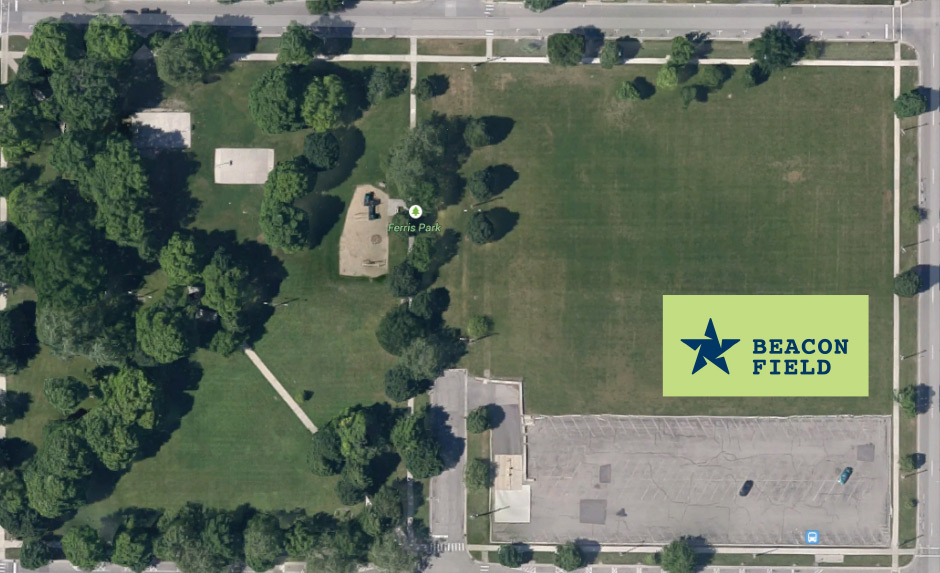 SUPPORT
"Friends of Ferris Park are committed to making, and keeping, a friendly community that supports diversity. The construction of a soccer field that welcomes all members of the community demonstrates that pledge."
Amanda Denny
Chair – Friends of Ferris Park
"The Downtown Neighborhood Association has historically loved the blend of ages using the park, including the basketball court, which we treasure. With the opportunity to add a soccer-specific field open to all is so emblematic of what we are trying to accomplish for downtown."
Gretchen Cochran
Co-President – Downtown Neighborhood Association
TEAM
A collaboration of the City of Lansing Parks Department, the Capital Area Soccer League as well as public & private community partners.
Friends of Ferris Park
Wieland Davco (international construction management firm headquartered in Lansing)
Capital Area Soccer League (2,700 youth soccer players in CASL ages 7-19)
Truscott Rossman (public relations)
Traction (creative and branding firm)
Lansing Public Media Center
Bergmann (architects)
Committed Corporate Sponsors
UNITE AND SHARE
Beacon Soccer Field is a place for a growing sport to be played, without barriers of entry, bringing together Lansing natives and its expanding international community.
The prototype field will potentially become a statewide and national model that can connect the sport of soccer with the many families that wish to join the sport, but currently cannot afford it or do not have access. The field provides a stimulating environment for young people and community members to connect and share cultural experiences.
These fields will truly enhance parks and neighborhoods nationwide and provide free play for youth with facilities only those with means would typically have access to.
CONTACT US
Beacon Soccer Field is located in Ferris Park | 417 N Walnut St, Lansing, MI 48933
© Capital Area Soccer League | 1427 W. Saginaw, Suite 175 | East Lansing, MI 48823